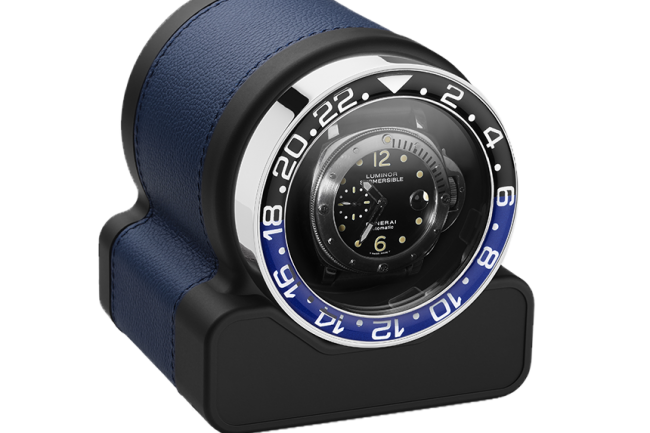 Scatola del Tempo revisits its original watch winder model, the Rotor-One, designed by Sandro Colarieti, the inventor of the rotating case. The heart of the movement is equipped with a new totally Swiss made engine and its design has been completely redesigned.
The new Rotor-One, everything changes….
The Scatola del Tempo brand has decided to give its cult watchmaker, the Rotor-One, a new lease of life.
At first glance, we discover that the Rotor-One has been completely redesigned. Without denying its distinctive style or its Italian elegance, the Rotor-One is a delightfully vintage-looking roundness and is adorned with a leather strap in a choice of 7 colors: black, chocolate, hazelnut, grey, blue, green or red. With or without protective glass, the Rotor-One's frame, made of leather-coated ABS polymer, is suitable for all automatic watches.
When we look inside the case, we see that the Rotor-One has equipped itself with the SwissKubiK motorization, a 100% Swiss made technology designed and manufactured in the brand's workshops in Fribourg, Switzerland. The Swiss micromotor without magnetism offers unparalleled operating silence. Its exceptional autonomy of 3 years is obtained thanks to the low consumption of two alkaline batteries.
This exceptional small motor makes 1600 rotations in both directions daily to optimally maintain your automatic timepieces.
Rotor-One, the icon of any informed collector
The Rotor One is presented as the iconic piece par excellence of automatic winders. Designed by Sandro Colarieti, the founder of the Scatola del Tempo brand, the Rotor-One would be the model behind all the watch winders that convinced Patek Philippe of the concept in 1989.
Sandro Colarieti's passion for the care of mechanical watches was his obsession and is the DNA of the Scatola del Tempo brand, which has become a reference brand over the years. Scatola del Tempo is at the service of every owner of automatic watches and is constantly looking to develop and imagine new products to maintain the magic of automatic watches.
Today, one can imagine that any enlightened watch enthusiast would have at least one model of the Scatola del Tempo brand, or even its famous Rotor-One, in his wardrobes, chest or closet.